Following is the short story that won me first place in round 8 of the Writer Unboxed Flash Fiction contest. The photo is by Brin Jackson of a beloved gargoyle named Gabriel, in her garden. The story was inspired by the photo. I hope you enjoy it (Harry Potter fans, in particular).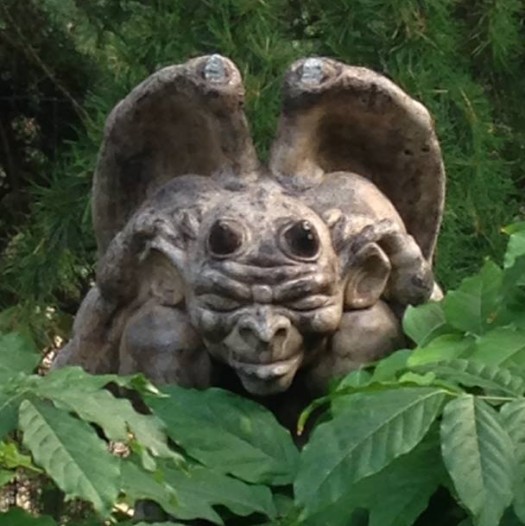 "Troops, you know what this is about."
Their stone heads nodded and their red eyes flared.
"Revenge." I unfurled my terrible wings. "We used to be respected. We used to be feared."
My hoary comrades, half-covered in the indignity of moss, rumbled.
"We used to have a purpose. Now we're just ornaments. They think we're cute. And it's all her fault." We glared up at the big house. "Tonight, no more hiding in the hostas. You know your assignments."
And so it began.
Seven nights of lining the windowsills of whatever room she was in. Seven nights of marking her as the target with the beam of our red eyes. Seven nights of infiltrating her dreams with images more terrifying than those she'd imagined.
On the morning of the eighth day, she came to us. "I'm going mad."
I rotated my shoulders just enough that she could hear stone grinding on stone.
She crouched in front of me. "I don't know how you know what I've written or who I am, but I apologize. How can I make it up to you?"
I told her our demands. She stood and tapped on her phone and then showed me the results.
@jk_rowling Garden gnomes are not cute objects of fun to be tossed over your garden gate at Harry Potter birthday parties.
@jk_rowling Garden gnomes are gargoyles, which are seriously fearsome magical creatures that we should all respect, if not fear.
@jk_rowling Please stop sending me garden gnomes.
Mission accomplished.