My plan was simple: take the Christmas vacation and the month of January to go through my house and do the nagging maintenance and reorganization tasks that had been weighing on me for a few years. The theory was that I'd take care of them and not have anxiety about it dog me like a bad smell.
I'm less than two weeks away from my self-imposed deadline and, unless I do something insane like decide to coast on my momentum and repaint the kitchen floor and cupboards (highly unlikely), I'll finish with all my organizing and cleaning tasks completed, plus a few not strictly necessary but nice jobs, including getting rid of the way cool rug that shed like a hairy pet even after a year.
I went through the kids old toys, threw away bags and bagsful of broken and crappy stuff. I sold a few things on Craigslist. But then I've also been giving things away. One little 3-year-old came to my door on his birthday in his pirate costume (because they were on a treasure hunt) and took a few little Toy Story items we still had. Once he got the toys in his fists, he was gone, wrapped up in his Toy Story world, so much like my son at that age. Several bags of stuffed animals (and some funky ones, like marmosets and bald eagles) went to a nurse at a children's hospital for them to use as examples of how they're going to put an IV in for kids. I've been delivering bags all over town.
And not only toys: nice Pottery Barn throw pillowcases, clothes, musical instruments. All sorts of items I'd been keeping "just in case," I needed them again: gone. Unopened hardware items, including those giant caulk guns that I never use because they're too unwieldy: gone. Two floor lamps, two hanging lamps, two wall sconces, three standing lamps, all gone. Pillow forms I'd bought but never used and didn't return in time: gone. Clothes I loved once but hadn't worn in three or more seasons: gone. High heeled party shoes and other clothes bought for an alternate vision of a future potential me: gone.
A friend posted a call for old wool sweaters so his girlfriend could craft with them, and off went a gorgeous green wool sweater from Ireland that I hadn't worn in 15 years that I was saving for me to felt and craft with. I hadn't done it in all that time, so off it went.
In that same vein, off went the tired upholstered chair in our living room that I was planning to reupholster. I spent a lot of time bookmarking sites that explained how to slipcover and how to do your own upholstery. But then, nothing. I have come to the conclusion that I am not only not going to do it, but if I were to do it, I wouldn't be happy with the result because I'm just not a fussy enough sewer. So off it went. New chair already purchased (thank you January furniture sales!).
So I'm not just breaking free from stuff, but also old daydreams of myself. I'm not a hardcore DIYer or constant crafter. I occasionally do both those things (and may I saw that I totally rocked what I built for a new coat and backpack system in our back hallway out of scrap lumber from my garage).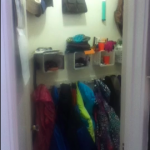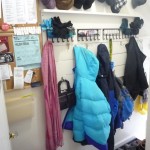 back hallway before                          back hallway after
But mostly not. So a lot of stuff that I'd bought at a time when I though that might be me, left the house, and more will leave in the next 10 days. That's made this process very emotional. There's more self-reflection going on than I'd anticipated.
At first, I'd feel my shoulders unclench a little with each bag that left the house, but I've been getting teary as I drive around to donate stuff. This process is going deeper than the mere satisfaction of a clean, organized home. Maybe I really will be set free when this is all done.