The last time I went to a concert in a basement was 17 years ago in a grim bar on the eastern edge of the East Village, when my husband's band, The Haints, went on at 2 a.m. to play to the 3 friends and 2 near-comatose strangers in attendance, all of us drinking $8 glasses of soured McSorleys. I think we all hated each other by the end.
This was the opposite of that show in every way.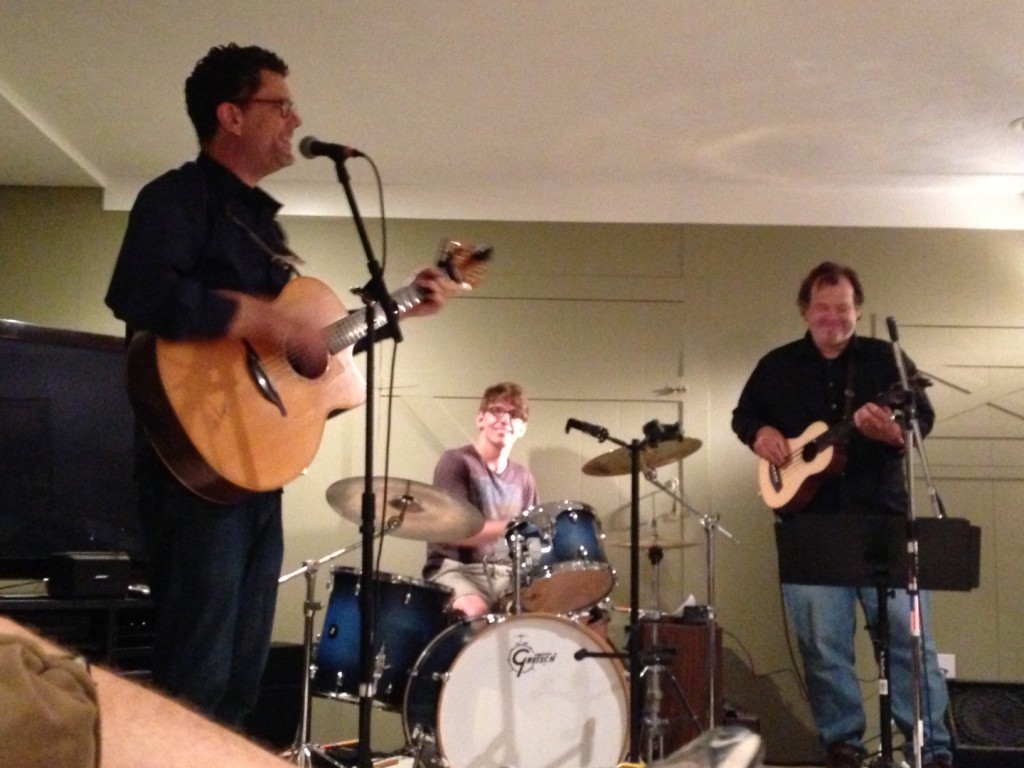 Friday, July 19, Jason Harrod and his traveling band – Toby Hazlet on the ukulele bass and providing nicely understated harmonies, and Gerko Tempelman on drums – played a garden concert in Chris Smit and Lisa Van Arragon's basement. Rain earlier in the day left everything outside wet, so they moved it downstairs. A great decision. There were no distractions from the music in that limited space, so emotion could build and flow between and among us. I felt it as an audience member, and I hope we were feeding it back to Jason and the band.
He had an opening act, local 16-year-old singer-songwriter, Maddy Wiering. In the interests of full disclosure, I should say that I've known Maddy since she was 4 – the flutey little voice she had back in the days of minivan carpools has matured into a high and lonesome sound that draws in and holds on to the listener. Okay, more full disclosure: I asked my husband, a musician, how he'd describe Maddy's voice, and "high and lonesome" was his answer.
Many of her songs are restrained in presentation, so you can really hear the lyrics, and appreciate the pathos of "Tough All Over," which is about not being tough all over. But then she can strum her guitar harder and sing louder and wilder so we can join her in the crazier side of human relationships in "Crazy." It was really fun to watch other musicians in the crowd nod along as she played, to hear them laugh to themselves when she got something so right. Check her out on SoundCloud. A fitting opener for Jason.
I love Jason's voice. There, I've said it. It does something to the back of my neck, in particular, not quite shivers, not goosebumps, but that's where I feel it. For the entire time he's singing. Especially when he breaks out the falsetto. I just had to get that out.
Indulge me one more time. Jason stood in front of us with more command, more generosity, more comfort than I remember seeing from him in the past. He guided us on emotional journeys and we were happy to be led. I blame/credit his recent experience as a worship leader. I've seen this same change in another long-time performer; not quite enough of a sample to make for a full-blown theory, but close.
Now on to the show.
Even before he started singing, the mood in that basement was rather gleeful – we were all so happy to be there, even the chubby baby with squeezable legs sitting on his dad's lap. Jason started with an oldie, "Siren Song," which got our heads and toes bopping. In the intro to the next number about riding the subway, he confessed that his songs are generally about God, women, or geography, or a combo of all three. He was right; there was only one song that didn't fit that description.
The third song was the first new one he played, a cool mix of monumental and granular imagery. "When I came down off the mountain, I was breaking like a wave," to lyrics about particles of dust. And then in the middle of this fantasy, he pierces us: "Who's going to love me today? Who's going to calm me down? Who's going to take me as I am? Who's going to take me home?" This was the first of three times Rachel Laughlin leaned over another person to look at me long and hard before finally whispering, "I love that one."
Then it was on to "Moon Mission," the first single off the new album Highliner (give it a listen here). What seems, at first, like a straightforward song about the last man to walk on the moon turns into an exploration of the sadder and bleaker side of human experience: "I'll be your sweet sailor up in the sky … There's nothing for me down here." This is something Jason does so well. At the end, Steve de Ruiter called out, "That's a killer tune, man."
I must add that opening act Maddy Wiering pulled a similar shift in her song, "The Girl With The Gorilla Tattoo." It started out as a cheerful story song about a waitress in Nashville with some impressive tattoos, but then Maddy took it somewhere else with the observations that nobody knew her name or cared to hear her stories. Bodes well for her future songwriting.
By the end of Jason's next song, we weren't just appreciating a good line or a gorgeous falsetto or an intricate guitar solo (a more music-y person would've written more about that, because he's got some chops, but I'm a word person, so that's what I tend to focus on). The room hushed when he took out the harmonica for "The Messed-up Everywhere Blues." The next phrase looks sort of wrong in print, but it's the best way I can think of to describe us during the next song: we were feelin' each other, and feelin' him. The plaintive cry at the end, with his "Jesus don't take my song away," and the repeated, "you know I only play for you," just got me.
When he sang "Carolina," it was the first of a few times that I could hear people singing along – it's hard not to for longtime fans. But they didn't sing along very loudly. I call it "ghost harmony." Just loud enough to hear it, but not loud enough that you get annoyed because you didn't come to hear people in the audience sing (or is that just me who gets annoyed when the person in front of me sings louder than the person I came to hear?).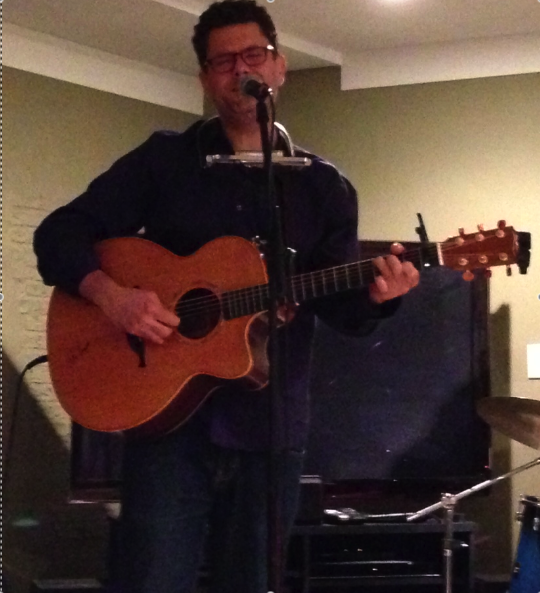 Jason introduced the next song as a straight-up prayer: "Chains" — "Take these chains from off my neck …Melt them down into something good." One wouldn't normally characterize a prayer this way, but in my notes, I wrote, "this is the shit." In all caps. Also, "If my husband doesn't do this song at church sometime, I'll leave him." Beth Skillen and I almost raised our hands as if we were in church.
I was still recovering from "Chains," so I didn't recognize one of my favorite Jason Harrod tunes until he started singing "My Mad Girlfriend." I sat in a row with two other women above 35, each with somewhat passionate, emotionally intense natures, and it was a blast listening to this song together. Did I give a whoop at the line, "She's so boss"? Yes. Yes, I did.
And that was just the first set, people.
I won't exhaustively detail the second set (for fear of losing everyone), but it was just as wonderful. After "Kicking Mule," it was a little more contemplative in tone than the first set, and marvelously intimate. All the lights were on in the basement, so Jason could see us clearly and we could see each other, appreciate each other's reactions to each song, hear each called-out encouragement (enjoy Steve de Ruiter's multicolored striped socks). Toby and Gerko added great energy to the songs and to the evening. We even found a few people to speak Dutch with Gerko and his wife Rachelle.
Big thanks to Chris and Lisa (and Moses) for hosting and to the musicians for giving us an experience. It was a great night. If you're reading this and you haven't seen Jason and Toby and Gerko yet: make plans to do so. Go here to see the rest of the tour schedule (many East Coast dates in August). And if you feel inspired to host them for a house concert: go for it. It was the kind of night where we all loved each other a little more by the end. I'm still smiling about it.