I do a lot of big creative things: writing novels, choreographing dances, developing children's worship curricula, maximizing the small spaces in my house. But there's one thing I do for fun. It's small. It only takes a couple of hours once a month or two.
I do the library bulletin board at my kids' school.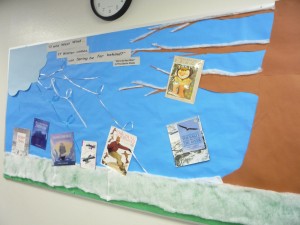 The words on this are "O wild west wind, if Winter comes, can Spring be far behind," from "Ode to the West Wind," by Percy Bysshe Shelley. I had big plans to cover the books with a bunch of "snow" to coincide with an actual snowstorm, but we never really had one.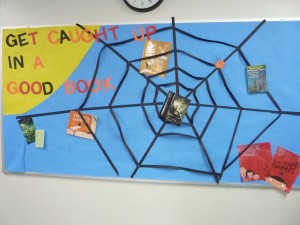 I should've gotten a big, hairy rubber spider to staple up.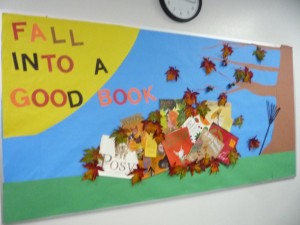 Gotta love the 70% off sales at the end of a season — all those nuts and leaves cost my $2.
This month I was given an Olympic theme, plus the phrase, "Go For the Gold," for reading month. I drew a giant open book at the bottom of the board and stapled silhouettes of Olympic athletes coming out of the book, added gold Olympic rings in the middle, tore apart a little picture book about reading and stapled four of the pages across.
The librarian loves it, because she doesn't have to think about what to do. I love it, because it's a little crafty thing with big impact. I already have plans for April, something with an umbrella and rain.
What little creative things do you do?