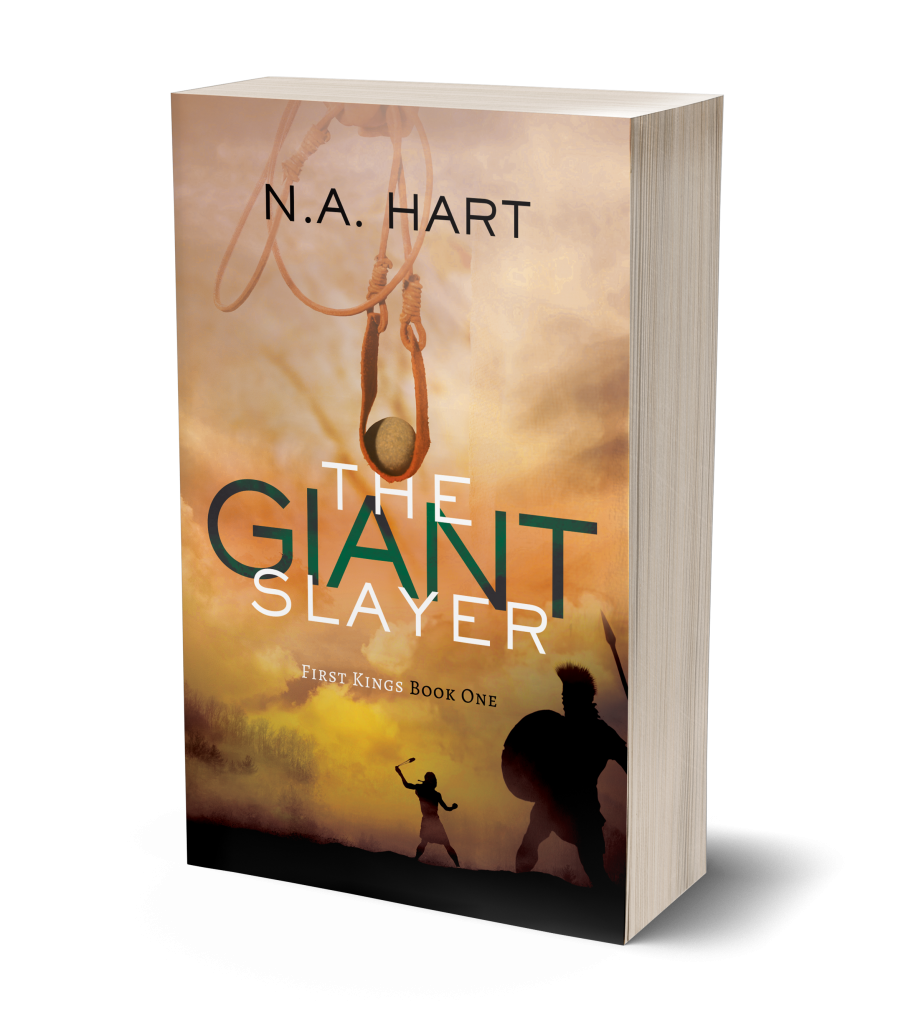 It is official: I have perseverance.
This has not always been true. I used to get my mother to finish all my sewing projects. As someone for whom many things came easily, I'd routinely abandon things once they became difficult, because that meant I was "bad at it"–classic fixed mindset. My basement storage room was clogged with half-finished craft projects until one January when I made it my discipline to finish them or get rid of them. The balance on the scale of Great Ideas vs. Ideas That Have Seen the Light of Day leans so far on the Great Ideas side that it's laughable.
Even The Giant Slayer–I started writing this with so much hope and excitement. In 2011 or 2012. Before that, I'd been writing romance and learning a lot, but no agent or publishing deal. And then, in my read-the-Bible-all-the-way-through project, I reached the story of David in 1 Samuel. It was thrilling. I was a big reader of middle grade and young adult fiction (Harry Potter, Percy Jackson, Benedict Society), and I kept seeing echoes of those stories in David's story. I wished that my then-12-year-old son could see the Bible as exciting as I was seeing it–David was the original Harry Potter, Luke Skywalker, Percy Jackson! But the Bible is written in formal language without the level of detail that kids connect to.
So I thought I might take my love of middle grade fiction, my love of the Bible, my love of research, and my skill in telling Bible stories to kids and re-tell the story of David, adding in some of those feels-like details, some of the dialogue, some of the things that would make it feel like a fully fleshed-out story for contemporary kids.
I thought it might take me 6 months. Ha! The more I wrote, the more details I craved, the more precision I needed. It took two years to write, and then another two years of submitting to agents and publishers and dealing with rejection before choosing myself and deciding to independently publish it. In mid-2015 I was ready to go. I had ISBNs, the manuscript was edited, I had my Facebook author page and I was executing my marketing plan, I had contacted book cover and interior designers, I had a publisher name and logo.
And then my husband of 21 years was arrested for a sex crime.
I've written generically about my marriage imploding and things being difficult, but what happened was not generic; it was huge and shocking. It meant a complete reordering of our lives and our expectations. Even that feels like an understatement. The Giant Slayer was the thing that always got pushed to the back burner while I dealt with all the financial, legal, medical, educational, emotional, psychological, and physical needs I was negotiating for myself, my children, our extended family, our friends, and our church.
Now and then, I'd take a baby step toward picking up this book project, but it's hard for a single mother who is no longer married to a web developer to do tech stuff on her own. But I kept trying and I kept praying for perseverance. Somehow, I decided that 2019 would be my year. In 2018 I made a few tough decisions and decided to pay for the things I could–including that gorgeous cover by Jessica Bell. I spent a crazy amount of time asking my friend Mr. Google many questions about what I wanted to do. I yelled at my computer, and sometimes I cried. But I kept going.
Three and a half years after I was on the verge of publishing, I have published. I am so proud of it. I think I have managed to present David and Saul without nostalgia, as if they do not know how their stories turn out (which is my pet peeve in so many biblical presentations).
Whether you read Mary Loebig Giles's wonderful back cover blurb (following), download the first two chapters, and order the book or not, I thank you for reading this far. I've talked about this project for so many years with so many people: thank you to all of you for listening. May you keep persevering at something you think of as a too-big hurdle: may you slay your metaphorical giant, just as I have.
Born to serve, destined to lead…

Twelve-year-old David, a skilled musician and bold risk-taker, tends his flocks in a rural backwater of ancient Samaria, eager to prove himself and join his brothers on the battlefield. A youngest son who would never have a household of his own, no one is more shocked than David when a powerful prophet summons him for a cryptic blessing, hinting that he–and not his brothers–is destined for greatness. So begins David's epic adventure. As the nation readies for war against an age-old enemy, David secretly trains as a soldier. He soon comes face to face with a terrifying foe and ultimately finds himself in the center of a life or death struggle that will alter the course of history for Israel–and the world.

A hero's journey and young adult coming-of-age novel, The Giant Slayer imaginatively retells the Biblical story of David's meteoric rise from shepherd boy to fearless warrior and future king.