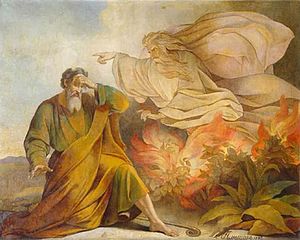 "But Moses pleaded with the Lord, 'Oh Lord, I'm just not a good speaker. I never have been, and I'm not now, even after you have spoken to me. I'm clumsy with words.'" (Exodus 4:10, NLT)
You'd think it would be amazing to hear directly from God that He'd chosen you to lead His people, that it'd instantly erase all your doubts about yourself — but it didn't work that way for Moses.
This was his fourth objection to the job. God tried pointing out that, since He was the one who made mouths and made people so they could speak, He'd tell Moses what to say and help him say it, but Moses still begged God to send someone else. God was angry, but He caved. Moses' big brother Aaron became the public speaker, with Moses feeding Aaron the words God fed him. It was a little convoluted, but it worked.
Until, after about six weeks in the desert, Moses didn't need it anymore.
The Bible is silent about this transition. Did Moses just get used to public speaking? Did watching God come through with the unimaginable over and over get through to him?
Or did Moses maybe never really have a problem?
The Israelites weren't shy about criticizing Moses and complaining about other things, but we have no record of the people jeering at Moses for how he talked or blaming his halting speech for their failures.
It's at least possible that Moses believed something about himself that wasn't true, and that kept him from accepting that he was the kind of person God would call – even as God was right there, calling him a leader. Even as God was right there, promising to help Moses lead.
Do you believe something about yourself that might not be true? Do you believe that something basic about yourself (shyness, hyperness, age, gender, poverty, physical or intellectual ability, etc.) disqualifies you from serving God? Do you ever think, "Someone like me could never…"?
God is always choosing you, and constantly offering His help. Sometimes, that's enough to dissolve your insecurities. Sometimes, it isn't, and, like Moses, you need time — but it's time to learn while serving. Moses didn't figure out his issue by practicing alone with his sheep. You don't need to have yourself all straightened out first. Get moving, work some modifications … until, one day, you won't need them anymore.