My daughter started high school today — obsessing about her clothes, her hair, her make-up, the friends she'd made the night before, the plan for lunch, whether she'd get lost, whether it was actually true that she wouldn't need her textbooks on the first day and that teachers are lenient about getting to class on time the first week, and probably a host of other things she wouldn't admit out loud.
As a wordsmith, I chose my words of encouragement with care:
Set the bar low. Just live to the end of the day!
Because I know she'll do fine. She is her mother's daughter, freaking out about stuff ahead of time so she's ready for it when it comes (whatever "it" is).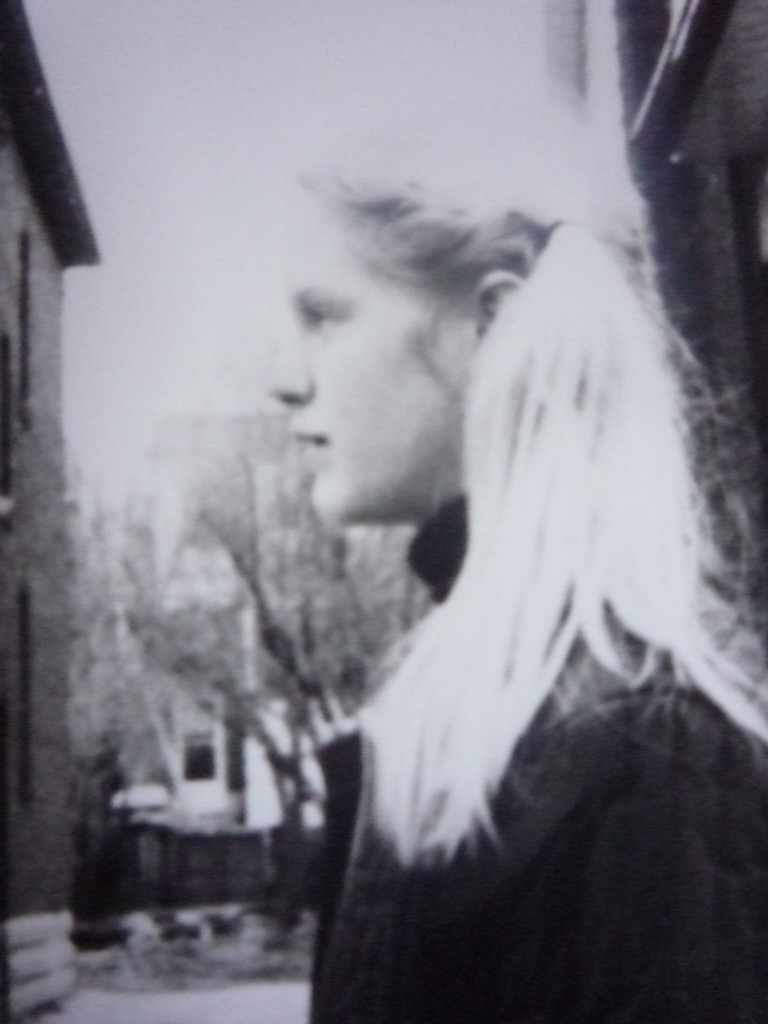 But I'm remembering the thirteen-year-old from 1981 who started high school without the benefit of a launch day that would take her to all her classes before that high-pressure first day, without the benefit of seeing all the kids and what they were wearing and carrying. That poor sweet girl, coming from a weird and tiny Christian school with its graduating class of seven, all girls, two cousin pairs, four of from the same church. Whose grade had been the oldest one in the school for three years. Who only knew two other kids in this school of hundreds. Who knew no boys her own age. Who bought her own clothes with her own money from the local consignment shop, with a very experimental fashion sense, except for jeans, which (according to the weird school's subculture) had to be boys' jeans. Who still wore pigtails in her hair. Who went to high school that first day with a doubled Loblaw's bag (plastic grocery store bag) in which to carry her books.
Should I mention that she went to a public school that had a reputation as the snobbiest school in the city, even worse than the private schools?
She certainly considered it a victory to live to the end of the first day of high school.
Of course, this sweet girl was me. My daughter starting grade nine is bringing it all back.
I'm having flashbacks to that first day, standing stock still in the central hall, students streaming around me, jostling me, my nerdy Loblaw's bags (while everyone else had backpacks or school bags — oh, the horror) cutting into my fingers, on the verge of tears because I had no idea where the science wing was and I was too terrified and mortified to ask anyone.
To that day when my choir teacher made an appointment for me with a guidance counselor because the altos had been making such obvious and loud fun of me in class that he'd heard it. I hadn't wanted to deal with it at all, so I said it didn't bother me. It did.
To that day when a boy who smoked a wide variety of things in what we called Cancer Alley turned my entire desk around in history class so I had to face him while he told me a made-up and obscene dream he'd had about me.
To that day when someone complained about me being at a party because it brought the stature of the party down — to my face. And I had neither the confidence nor the social capital to laugh it off. Because in the hideousness of high school, it was true.
To that day when someone yelled to me, "Nice ass. Shame about the face."
Other people had it worse, I know. I was never physically threatened, and I'm grateful I didn't grow up in the digital age with cyber bullying. But oh, did I hate high school.
Now, I had friends, and I was on the swim team and in clubs (nerdy clubs), and I laughed, and I skipped school to go for bike rides or to the mall a block away. There was my birthday buddy who took me to her house once for an authentic Chinese dinner. There was the girl whose uncle was in the mob in New York City (he really was). There was the druggie girl who liked to tell me stories of her exploits (probably because I had no competing stories). There were the two boys who would practice with the girls' swim team, so I got to know them enough to flirt with them. There was the girl who would invite me to her cottage in the summer. High school wasn't all skin that felt permanently red from blushing, and clenched teeth.
I'll still occasionally dip into a daydream in which I get famous enough to be invited back to NTCI to be a graduation speaker, and I speak exclusively to those kids who had a bad time. Which, now that I'm an adult and I've talked to more people, I realize was most of the kids; even if someone looked like they had it all together, inside they felt just as awkward and terrified and self-absorbed as I did. Ah, perspective.
Thank you for indulging me while I got all that out in the open. I feel better now.
Want to engage in a little high school horror story one-up-manship? The comments are yours.