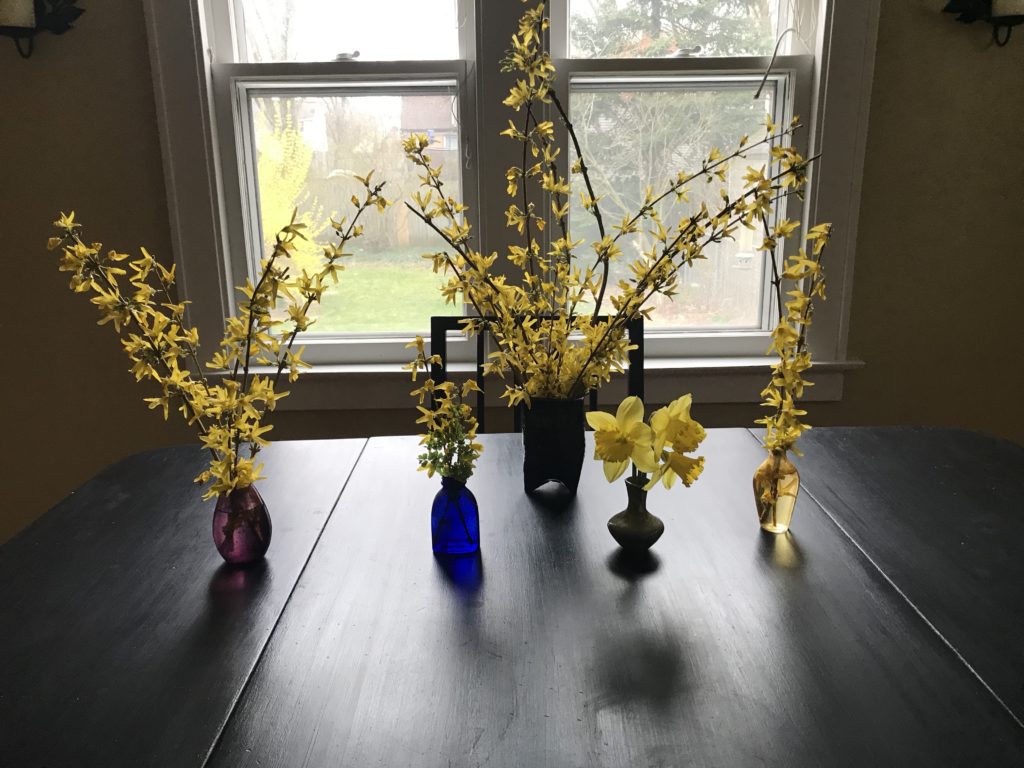 It has been an odd week. Well, every week is odd these days, as we're doing things and changing our lives in ways we probably hadn't imagined. But I distinctly remember thinking on Tuesday morning,
This is starting to feel routine. The things that were an ordeal, a big deal a couple of weeks ago now feel ordinary.
That felt good. It felt sustainable.
A few weeks before that, I'd had a rough emotional week as I realized that I'd been operating in what I called sprint-energy, and that I'd have to transition to marathon-energy in order to not exhaust myself into illness (whether mental or physical). I did that, and then, for a moment, it felt like it bore fruit in life feeling routine.
But as the week went on I noticed that I was sleeping horribly, waking up 2 – 4 times a night. I hadn't gone for a walk or chosen to exercise at home in days. There was a book I was looking forward to reading, but I'd glance at it and then go back to watching endless British shows or cooking competitions on YouTube. All of these are signs I know well; they say that depression is creeping back in.
It was as if a new normal was developing, but I was rebelling against that new normal at the same time. As if everything inside me was saying,
No. I don't like this. I refuse to let it feel normal, to let you feel normal.
I described myself on Facebook as feeling like my emotional soup was murky and fully of mushy pasta. If you've ever left pasta in soup to be heated up the next day, you'll know how unpleasant this is. The soup started out good and delicious, but the pasta soaked up too much liquid and somehow stole a bunch of the flavor until it's a bland, pulpy mess.
So I made a full-court press and in the last two days did almost every single thing that I know is good for me to do when I'm feeling that old depression trying to sneak back in (note that I already take medication for this, so I kept on keeping on with that).
Talk about it with others. As I mentioned, I posted about this feeling on Facebook and 28 of my far-flung friends and family responded to encourage me and to talk about how they were feeling. I also talked with my kids about how they were feeling. I didn't feel alone, and it was good to know we're all struggling to manage the emotional side-effects of what is happening these days.


Talk with God. Not just in my head, but I filled out a resource I sent around to my congregation in the weekly email on Thursday, and I wrote a Pandemic Psalm. It takes you through the steps of most psalms of lament: telling God what's happening, how you feel about it, what you want God's help with, and then reminding yourself what you know about God and God's character, and declaring what you will do. I took myself through an "and yet" move, and reminded myself that there are things I can do.


Notice beauty around me. The weather in Michigan the last two weeks has been lousy, chilly and rainy/snowy. I am not here for it. But it did contribute to how long my forsythia has been in full bloom.



Take care of the home. My mother gave me great advice: when you're feeling poor, clean your house and make a pot of soup, that way your environment isn't dragging you down further and you've got sustenance. I'm not feeling particularly poor, but it's good advice for when you're feeling down, too. So I put away the laundry, cleaned the dishes,



cut flowers to distribute throughout the house (see photo at the top), and made granola (because I already bake bread, making granola is my new coronavirus cooking adventure).



Help other people. Doing things for others can knock us out of the ever-tightening spiral thinking that comes with depression. So I brought a load of new-to-them kid books to a family in my church (if your kids are older and you have lots of books, lending them out to families who can't go to the library is a great thing to do in this season),



gave a tub of margarine to another man in the church who said he couldn't find any, ordered take-out from a local restaurant to keep supporting restaurant workers,



and made a video to remind myself, and others, that Jesus can be found in the gaps, that Jesus is with us in the low times (below the list).


Go for a walk. Anywhere is good, but I love to walk amongst the trees. I can feel my shoulders unclench and lower a good inch after walking in nature. So I headed to the Calvin Nature Preserve, hoping for wildflowers. There was only one Trout Lily bloom that was almost open.



But more exciting than that: for the first time in the 30 years I've been walking there, I saw a pileated woodpecker! Those are the Woody Woodpecker-type birds, and they are huge. (It's in the middle of the photo below, look for a reddish blur.) I was thrilled.


I didn't read, but I think I'll be able to get to that book this weekend. It feels like my full-court press has done its job. The reality of my life hasn't changed, and I'm still sad about the things I miss, but I'm not mired in murky emotional soup anymore.
What do you do to knock yourself out of a downward spiral?