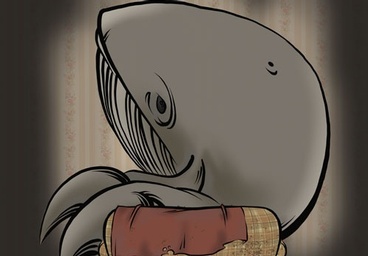 No whales will be harmed in this post, and there will be no photos of the insides of actual whales. I'm talking about about the Samuel D. Hunter play, The Whale, that I saw at Actor's Theatre last night–"dissecting" the story by analyzing it like a writer, as we do in an online book club I'm part of.
The performance I saw last night gave me that rare experience of being in an audience that is completely silent: no coughing, no rustling of playbills or crinkling of candy wrappers, no shifting in their seats. Silent isn't even the right word. It was a heavy stillness, a quiet that we couldn't release ourselves from. The only other time I'd experienced that was when I watched a Holocaust survivor tell his story to middle schoolers.
The Whale is about Charlie, a 600-pound man who is about to die and reaches out to Ellie, the angry daughter he hasn't seen in 17 years. Charlie's friend and nurse, Liz, tries in vain to keep him alive. Mormon missionary Elder Thomas keeps showing up to talk about God, and Charlie's ex-wife Mary comes in as an avenging truth-teller. It is funny, until about half-way through, and then it's compelling and devastating, can't-turn-away theater.
Hunter does something incredibly well that writers are told to do, but is tough to commit to: every character is the center and star of their own story. Yes, the play revolves around Charlie's decision to eat himself to death in his crappy apartment, but each character is enacting his or her own drama within this. Their actions are so well motivated by their own pasts. It's impressive storytelling.
---
SPOILER ALERT: I'm going to detail each character's story below, so if you want to see this play and have it be a surprise, then you should stop reading right now. Also, this post is crazy long. I'm mostly writing it for my own learning, but you may share in that if you like.
---
Charlie
The center of the play does not want to be the center of his own life. His most common line is, "I'm sorry." He's constantly apologizing for being who he is. The entire play takes place in his lousy apartment: walls are mildewed, food garbage spills out of the kitchen, covering the table, and onto the floor. His couch is a gold plush couch that looks like it came from the curb. Charlie is in his last week of life due to congestive heart failure, but he refuses all attempts to get him to go to the hospital, or to even call a doctor. He works as an online writing teacher, but because of his surroundings, we assume he has little money (but just enough money that he doesn't qualify for county services).
As the play goes on, we see him interact with Liz, his nurse-friend, and Elder Thomas, the Mormon missionary who comes to the door when Charlie is in a medical crisis. We see him recording lessons to his students. We see him with his cruel, foul-mouthed daughter who keeps a hate blog and calls him "disgusting" to his face. And he is kind to everyone. He's clearly not doing well, but he doesn't reject connection with people. I held out some small amount of hope that this was the kind of story where human connection draws somebody out of their destructive behavior, but no.
He tells his story to Elder Thomas, and it is sad. He had been married with a child, but then met Alan, one of his students. They became lovers, his marriage ended, and he and Alan become partners. Alan had been Mormon, but was rejected by the church and his family. At one point, Alan's father invites him to church one last time and he goes. Whatever happens there so devastates him that he gives up on life, refusing to eat or drink or sleep. He is dead within months. Charlie wants Elder Thomas to find out what happened to Alan at that church.
Ellie doesn't hold still long enough to hear anything of her father's past. She's angry. So angry. When she was younger, she was able to admit to feeling sadness, but now all her emotions have ossified into rage. She lashes out at literally everyone, whether in the story or not. This isn't some charmingly mouthy teenager: she drugs her father–a man who is clearly having breathing troubles–with crushed-up Ambien (that she'd stolen from her mother) in his sandwich just so he'd be quiet. She finds out Elder Thomas's real name and posts photos of him smoking pot, making sure his family finds out. But Charlie thinks she's amazing and wonderful, mostly based on her essay from 8th grade about Moby Dick that is honest and had vibrant writing. His ex-wife Mary calls him out, saying something like, "There you go with the positivity thing. It's so annoying," and detailing the cruelty she sees in their daughter. But he never admits to it, even insisting that she was only trying to help Elder Thomas by making sure he went back home.
And then we find out that he has plenty of money–over $100,000 in the bank. All for Ellie. He could have bought himself health insurance and avoided the situation we find him in. Which meant that he had decided to die. Just as his boyfriend Alan decided to erase himself, Charlie decided to blow himself up. With the excuse that he was providing for his daughter. Besides "sorry," one of his other repeated words is "devastating," and that's just what his story is.
Liz
Charlie is so cruel to Liz, even while we see him being kind and apologetic: Liz is Alan's sister. She assumes Charlie has no money and that's how he got himself into this trouble. She argues with every single character who comes into contact with Charlie, telling them to leave, or challenging their desire to be with him, because she wants to be the one to save him. Eventually, she admits this in an argument with Elder Thomas, "You're not going to be the one who saves him. I'm going to save him."
It's hard to watch her constantly trying to get him to go to the doctor; she brings him monitors and wheelchairs to help him manage his stress and be more mobile, because we know long before she does that Charlie has no intention of being saved. And when his ex-wife tells her how much money Charlie has…so heavy.
Liz has one of the most heartbreaking lines in the play: "Don't you put me through this again." She had to watch her brother die by degrees, and is so hurt that he's been doing the same thing, but by the opposite method. In every interaction with him, she's acting as the center of her own drama of trying to keep him alive; her status as his only friend is a key part of her self-image.
Elder Thomas
At first, he's in the story as a foil to Liz, and as a bit of comic relief. But he keeps showing up, clearly wanting to help Charlie. That his chosen method is to talk about how amazing the Mormon church is when both Charlie and Liz have been crushed by it, is misguided, but earnest. Oh so very earnest. But then he gets into Ellie's clutches, and she worms his story out of him: he isn't on an official mission to Idaho, and Thomas isn't his last name. His official mission had been the year before, to Oregon, but when he figured out that his mission partner didn't care whether they helped anyone or connected with anyone in any way, he exploded one night, and beat the kid up. After that, he'd run away and wound up there in Idaho, determined to help at least one person.
"Elder Thomas" is as positive-thinking as Charlie, always looking for the best in the stories in the Book of Mormon, and the history of the church. And he's always nonplussed when nobody else shares that positive outlook. But he keeps at it, because he's the center of his story.
Ellie
She arrives in every scene as a tornado, not caring about any consequences. She assumes she knows everything there is to know, whether about a person, or a situation, and doesn't waver from it, even when given evidence to the contrary. Even the fact that she keeps coming to see her father doesn't redeem her because he offered her all his money to do so, and told her how much it was–she mentions the money a lot. Her words are hurtful, her attitude is dismissive, and she manipulates everyone to suit herself. Yes, her father left when she was 2, and her mother is an alcoholic who never talked about her father and never let her see Charlie, so she's understandably hurt and angry, but her armor is so thick, there isn't a glimmer of a hairline crack until the very last minute of the play. She is so much the star of her own story that she barely admits that any other person has any value at all.
Mary
We don't see much of Mary, but we see how Ellie's absence from Charlie's life after their divorce is pretty much her doing: at first, she was probably hurt and angry from being with someone who was living a lie and also possibly a wash of disgust and shame because of the homosexuality issue. She'd fought hard for full custody and gotten it. But then she kept Ellie from her father (despite the fact that not only was Charlie paying child support, but also supporting her financially, since she was an unemployed alcoholic) because she didn't want him to think she was a bad mother, because Ellie was such a shit.
It was so sad to watch her interactions with Charlie, because he was so gentle with her; it was clear that he was the only person in her life who had ever been gentle with her, and she'd been without that for 15 years. No matter how much she needed that kindness (at one point she puts her head on his chest to listen to his breathing, and she turns it into an embrace, the expression on her face a mix of longing and grief), she lashed out at him, too, destroying his relationship with Liz by telling her the truth about the money. Mary piled shame upon shame on herself and interacted with everyone from within that spiral.
***
If you've stuck with me this long, thanks! This was brilliant storytelling, and I'm not even talking about the repeated symbolism of the whale, and all the God stuff that was debated, and the theme of whether people are disgusting or beautiful. If you ever get a chance to see the play, do it!
---
You may also like: Three storytelling take-aways from Selma