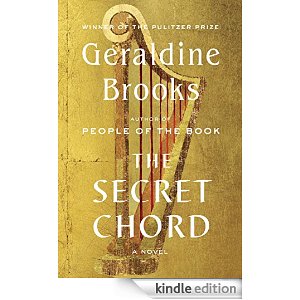 Last week, I found out something that gave me both hope and dread: Geraldine Brooks, a bestselling and Pulitzer Prize-winning author, is publishing a novel about Israel's second king, David, this year. So am I.
Oh, the stew of reactions I had.
Dread. She will suck all the potential attention my book(s) could potentially get.
Vindication. I was right that the time is ripe for fictional treatments of biblical people.
Curiosity. Her retelling will be different from mine. Here's the blurb:
The Secret Chord provides new context for some of the best-known episodes of David's life while also focusing on others, even more remarkable and emotionally intense, that have been neglected.  We see David through the eyes of those who love him or fear him—from the prophet Natan, voice of his conscience, to his wives Mikal, Avigail, and Batsheva, and finally to Solomon, the late-born son who redeems his Lear-like old age. Brooks has an uncanny ability to hear and transform characters from history, and this beautifully written, unvarnished saga of faith, desire, family, ambition, betrayal, and power will enthrall her many fans.
I am aiming my book at young adults and she's aiming hers at adults, which is my way of saying that she writes gorgeously, for a literary fiction audience; I don't. I am using fewer points of view, just David and Saul, to her possible six. I am using Western English spellings. But I loved her novel, People of the Book, and I kind of can't wait to see what she does with David and all those people in his life. Will her characterizations be similar to any of mine? Will any be polar opposite?
Hope. If people are interested in her book and they look it up on Amazon, maybe they will sometimes find mine, as well. Discoverability is a big issue when independently publishing, so this might bring a few more eyes to my project than it would otherwise have gotten.
Which brings me to:
Determination. Brooks's publication is as good a reason as any to try to get all three of the books in my series published this year. Which would be crazy. But I'm going to try. So it will be crazy.
Right now, The Giant Slayer (Book One) is with an Old Testament expert to make sure I get matters of culture at least plausible. Then it goes to the final proofreader, and then to the book and cover designer. The Giant Slayer could be out by summer. Contact me to be put on the list of those who will find out first!