We're whipping through the years, now. There was one entry each for 1979 and 1980. One is so earnest and dear and the other makes me cry. In a developmental note, I was no longer writing in block capital letters, but in lowercase, loopy cursive.
December 22, 1979   I have to pay better attention to my father. He is getting a lonely look on his face.
I have no idea what was happening. It was close to Christmas, which was a time my dad loved. He went all out but
did his main shopping on Christmas Eve after work, which cut it close because that was the night we opened presents. He'd come home laden with bags and head straight upstairs to his attic office.
I believe 1979 was the first year my dad got one wish: we had oil fondue for dinner that night. My mother wouldn't do it until my brother was 10 and she felt we could safely handle a pot of boiling oil on the table.
After dinner, Dad would disappear upstairs again, wrap everything in newspaper, write on the tags that they were from Santa (including the gifts he bought himself), and bring them all down. We'd tease him about the packages being from Santa. He'd insist. We'd get down to business.
I also don't know whether I did pay better attention to him. The diary is silent on this. I hope I did.
April 24, 1980      I saw the movie "Lovey" today. It was fabulous! Today, I also wrote my first french letter. It was fun. I always seem to enjoy those things. I enjoy almost everything. God gave us so much to enjoy! To me, my understanding and love of God is growing. And when I pray, it is almost always from my heart. Almost every day I thank God for my parents and teacher, they are so wonderful.
When I read the above, I was puzzled why I'd been watching that movie. After a little research, I figured out that it wasn't the film version of the Judy Blume book, Forever, her book about "going all the way," which my class read avidly, especially the pages that had been pre-folded-down for us.
Not at all. Lovey: A Circle of Children was a 1978 TV movie about a teacher of autistic children. Here's the description from Answers.com:
Lovey: A Circle of Children, Part Two is that TV movie rarity: a sequel that is every bit as terrific as the original. Jane Alexander repeats her role from 1977's A Circle of Children as a volunteer teacher specializing in autistic and emotionally disturbed children. Hannah (Kris McKeon) is an 11 year old child nicknamed "Lovey." The girl is given to loud, unexpected and quite violent tantrums, and for a long time it looks as though Ms. Alexander will never get through to her. The social worker's efforts to help Lovey put a severe strain on her off-hours love life. Despite the soap-opera trappings, Lovey: A Circle of Children shines with the light of truth from first frame to last, with Jane Alexander matching the brilliance of her earlier performance in the same role. Like A Circle of Children, this sequel was based on the autobiographical novel by Mary MacCracken. ~ Hal Erickson, Rovi
I remember this movie: the calm tones of the teacher, the tantrums of the girl. I know I'm not the only girl who went through a phase of devouring books and movies about kids with developmental or emotional issues. All that nobility and persistence. And tears. I'm certain it made me cry, then. It'd make me cry even more now, I'm sure.
I wonder what I was doing when I wasn't praying from my heart? Was I just rehearsing words? Trying to pray before bed and falling asleep in the middle?
I like thinking about that twelve-year-old girl who got really into things and wanted to love and understand God was grateful to God for almost everything. I've gone through intense times of gratitude since then, and they're wonderful.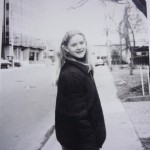 The year we moved back to Grand Rapids from NYC was another such time. We decided to move, my husband got a job that was a promotion in his field, we bought a car, I got pregnant, and we bought a house, all in the space of three months. And then in December I got to dance as Mary in a Lessons & Carols service while I was pregnant — one of the best experiences of my life. I can't say I was a ray of sunshine all the time, but I was deeply, deeply grateful to God for all of it. Then the child arrived and exhaustion and insecurity took residence for awhile.
You know, I still get enthusiastic about things. I still want to love and understand God. And I'm often grateful.
However, I am not feeling too sunny about sharing the upcoming diaries. The excruciating high school years — exclamation points galore, gushing, soul-bearing, ridiculous behavior. That we all go through it doesn't make it any better….