I've been avoiding writing about this book (Calling Invisible Women, by Jeanne Ray), but there's too much in there that hits too close to home. Clover is a fiftysomething mother of two (1 college student, 1 recent college graduate), married to a crazy-busy pediatrician, a dog owner, and writer of a gardening column for the local newspaper. She has one little brief blip of invisibility before becoming completely invisible: voice still there, body still there, but she cannot be seen. Her family doesn't notice. For several weeks. As long as she does all her regular tasks (including sex with her husband), they don't know anything is seriously amiss.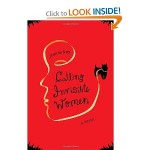 I picked up the novel in the library because of the cover and title, read the blurb and put it back. "No," I thought, "that's way too depressing to be as funny as the blurb implies." I walked two steps away, pivoted, and picked it up again. Read the first line: "I first noticed I was missing on a Thursday." Loved the off-hand tone of it, so I gritted my teeth and got it. I was going to read it like it was medicine.
And it was. The book is truly funny and the tone is comic throughout, yet I was on the verge of tears, if not actually crying, almost the entire time. Luckily, it's a fairly short book (246 pages), and a fast read, so it wasn't a terribly long time. But still.
The best parts of the book were when we meet the other invisible women and go along as they discover how to use their invisibility like a superpower. An ex-teacher goes to school on the bus (naked, so nobody can tell there's a person there), whispering in the ears of bullies as their conscience, making sure shunned kids have a place to sit in the lunch room, interrupting cheaters, and generally making life at school better, fairer. Another slips off her clothes in the middle of a bank robbery and foils it. They hold naked meetings so they don't have to pay for the hotel conference room. They learn how this happened to them (there is a physical reason, it isn't magic), band together, confront the problem, and achieve a pretty good level of victory.
But Clover's interactions with her family and the world at large made me so sad. Even a little panicky. I've got tears pressuring behind my eyes right now just thinking about it. As long as she's wearing clothes, the vast majority of people don't notice that the clothes are floating in midair. Even her doctor responds to her statement, "I am invisible," with a bland, "We get a lot of that in here," not even looking up at her from her chart as he talks. The only one who notices and didn't know other invisible women first, was her best friend.
This is a nightmare that is too easy for me to imagine being real. The first time it happens, Clover panics and wakes up her son to ask whether he sees her. There's some silly back and forth, including this nugget, "If you feel like I don't appreciate you, well…it's because I don't. I will again, but not until at least ten, okay?" She's visible by the end of the conversation. Next time, it's permanent. She didn't plan on testing her family, but the first time, when she stood in front of her husband as just a nightgown floating in air, and he didn't notice, but kept up an ordinary conversation, she dismissed it as her own mental illness. And then it becomes a test, a dare.
Aren't there tons of ways you test the people who love you? If I don't change the toilet paper roll, how long will it take for someone else to do it? Will anyone notice that I cut/dyed/changed my hair? If I do job X that person Y usually does, will they thank me for it if I don't mention it? If I don't plan a night out with the husband, how long before he suggests it? If I don't hand the camera to someone else and ask to have my picture taken, will anyone notice that there's little evidence that I'm part of the family? Or that I'm sometimes part of the fun? Maybe it's just me, but I bet I'm not alone.
What does it mean when they fail the test? It might mean that they don't love you, but not necessarily. It might mean that they're wrapped up in their own dramas and anxieties, with some tendency to take you for granted on the side. No matter what, it sucks for you. You feel crappy when they fail. After the first interaction with her husband, Clover cries out, "'He didn't notice!' A pure grief washed through me. It was bigger than the problem at hand" (p.27).
But you also feel kind of crappy when they pass, because you've expended time and energy scheming and imagining both scenarios and every one of your interactions is fraught with suspense and expectation. And all the negotiating with yourself to explain every nuance. Clover does this, too: "The next morning when he leaned in and kissed my shoulder, my neck, I started to think about it all another way. Maybe Arthur didn't see me because he knew me so well and his vision automatically filled in all the things I was, based on the slightest hint of shape or scent. Maybe when you've been with someone so long you don't so much see them as you project them onto things. Arthur could have been making love to my twenty-year-old self, my forty-year-old self…Anyway, this morning, I was willing to give him the benefit of the doubt" (p.48).
But it's also kind of irresistible. Another character asks Clover why she doesn't just tell her family. She admits that it would be better if they knew, "But after awhile it just becomes a point of pride. You start to wonder just how far it can go" (p.151).
Yet it isn't only pride, it's also fear. Fear of being unloved. Fear of being unlovable. And hurt. Hurt from all the times your loved ones have failed you in the past. Not to mention humiliation. It's humiliating to feel like you're begging for attention. Clover puts this messy soup together this way: "Maybe because we were timid and hurt, having already spend so many years feeling invisible before the truth of the matter kicked in. If we didn't have the starch to tell our own families that no one could see us, then how could we be ready to tell the world?" (p.157).
Not to mention the mingled guilt and anger in those who've been tested. Anger at the person for putting them in that position, but also guilt at being neglectful and clueless. Hurt that the tester didn't trust them.
It ends pretty well for the characters in the book, and Clover does apologize for testing them, but reading this has convinced me of the stupidity of testing. I'm going to stop it. In fact, I already have stopped it. I changed a door in our kitchen yesterday, and instead of waiting to see who'd notice, I told everyone that I did something big in the kitchen. My daughter wanted to know so she could anticipate it. My son didn't want me to tell him what, so he could see whether he noticed right away — he did. And I tagged my husband in the Facebook post that had the picture of what I did. When I see that the toilet paper roll needs changing, I'm going to change it. I'm going to open curtains (while teasing my family about really being vampires). When we're having people over for brunch and I'm busy cooking, I'm going to ask my husband to make the bed instead of wishing that he'd notice that the bed needed making and being hurt when he doesn't. There's more, some silly, some deeper, but you get the picture.
And there are more convictions to come because of this book, but I'll save that for a future post.