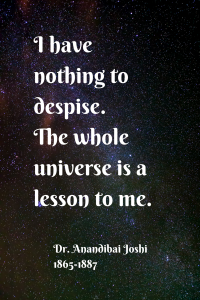 Here are some of the things Indian woman Anandibai Joshi didn't despise, but clearly could have:
Becoming a child bride at the age of 9 and moving far away from her home.
Living among people who were not of her caste or of her cultural group and being unable to eat food prepared by them, not even when they'd freshly arrived somewhere and hadn't yet unpacked their belongings, so she often went hungry.
Being openly mocked and spit at for doing such radical things as: taking a walk by herself, dressing according to her customs, conversing with her husband in public, being educated.
Being beaten by her husband/teacher for taking time off of her studies or for cooking instead of studying.
When she was 14, her son dying after only 10 days of life.
Being rejected by everyone because she intended to go to America to get medical training.
Enduring set-back after set-back in her plans to come to America.
All this by the time she was 17.
Another example of her thought:
"I wish to preserve my manner and customs unless they are detrimental to my health. Can I live in your country as if it were my own, and what will it cost me? When I think over the sufferings of women in India in all ages, I am impatient to see the Western light dawn as the harbinger of emancipation. I am not able to say what I think; but no man or woman should depend upon another for maintenance and necessaries. Family discord and social degredation will never end till each depends upon herself."
And this painful truth, inspired both by her countrymen and by the Christian missionaries she met in India:
"I rely on God, and do not seek to know who are his individual messengers to me. Take any religion you like and you will find that its founder was a holy man. Go to his followers and you will find holy men the exception."
I am writing at The Mudroom today about this pioneer. Please join me. It'll give you good background for when I write about her complicated marriage next week 🙂
* Quotes above are from Anandibai Joshi's letters to American woman, Theodosia Carpenter, as quoted in The Life of Anandabai Joshee, a kinswoman of the Pundita Rambai, by Caroline Wells Healey Dall, published in 1888, by Roberts Brothers.