The previous diary entry was embarrassing enough that it took me over two months to recover, but now I'm ready. I think. Then, I'd bemoaned the fact that all my entries were about boys and social drama, and not about church or any of my other enthusiasms. The evidence I wanted is here, gushing out all over the place. Gushing.
There would come a time when I'd mainly write in my journal about angsty things, but in the beginning of 1984, I clearly wrote when I was feeling most sunny. Note that, in person, all those exclamation points are peppy triangles over little circles.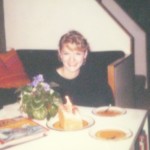 Last time, I included a one-off entry from August, 1984 that had slipped into the previous diary, but this book is all 1984, starting halfway through grade 11 (my junior year of high school, for my American readers). I'd just turned 16.
New Year's Not-So-Rockin' Eve
You will notice that the first entry was New Year's Day and I was at church, good Christian Reformed girl that I was. Am. There was a good chance that I'd worked the pancake breakfast that morning, which I had little problem waking up for because I wasn't partying hard with my friends the night before. Nope. Until my second senior year of college, when my parents lived in California, I spent every New Year's Eve with my extended family.
The big event for my Hart clan was New Year's Eve. I'm sure this year the kids hung out separately from the adults until we all came together somewhere around 11:45, when my oldest uncle read a Psalm and prayed in the New Year. These were long prayers that I believe got very specific about what had happened in the family that year. My memories of the prayers are vague because it was midnight, my eyes were closed, and I'd probably filched some wine. Scratch the probably — this was my European family. Wine was available. Then we'd creak to our feet, walk around giving kisses and saying "Happy New Year" to everyone, ignore any of the adults who might be having a more intense hug or kiss, have one last bite of food, and head home.
It was tradition. Also, since I try to tell the truth here, I was never invited to do anything else on New Year's. Never.
The Evidence (a larger chunk than usual since I managed to write for 5 days in a row)
1/1/1984  Happy New Year! Church this morning was good. He talked about faith. H said nobody understood Tuyle's sermon, even her parents! K slept over. I had dinner at H's and watched Von Ryan's Express. The only thing I didn't like was that Ryan died. R didn't spend New Year's Eve with C; H and I are so disappointed. D, the deaf boy from camp, was at her house. They get along really well. Nothing else happened today: so bye! Uncle D came over and the four of us had a really good talk. I feel amazing about myself!

1/7/84  I went out with H, L & N tonight. It was pretty good. A carfull of 4 guys yelled at H and I: ego boost! We pigged out severely. It was a Thurs. today and H and I skipped last class. I know, I know, naughty, naughty, but I know! Life is wonderful! Praise God!

1/8/84 I sat today and read the four Harlequins H and I bought. I had a real riot. They were cute but I thoroughly enjoyed myself.

1/9/84 Schuller this morning was great. He talked about faith again: it was really directed to church goers this time. He ties things together so well. I really enjoy listening to him and always learn something. I went nuts trying to read Great Expectations. At the moment I hate that book cause it's driving me nuts. Oma was also over.

1/10/84 Today just whizzed by! I think it was the shortest Tuesday I've ever had! H said that too. Each class seemed like a rec. period. It was great. H and I are doing our English seminar on the title, I hope it works. No workout tonight. Darn! But catechism was great. We talked about parent-child relat. as compared to craftsman-apprentice. It brought up a lot of discussion. We really saw the true colours of some of these kids. Sad! I'm having problems with my devotions: I'm not doing them. I have to shape up. But I think I will start slowly by praying every night, then I will go to reading the Bible every night as well. I thanked God heartily for my family: I always will!

1/11/84 Today has been an absolutely amazing day! It was the 1st ISCF meeting of the year and it went so well. We played games & then had an exec. meeting. We made up such amazing topics. We have two blocks of subjects: relationships and faith! Praise God for the ideas! I know that they came from Him because everyone was so enthusiastic. M was over. At the end (5:15) her and C went to T's and H, P & I went to Orange Julius and had a riot. We then walked to P's house, getting crazier as we got colder and had hot choc. I then walked with P and P to Uncle D's cause they were going swimming there. That was really fun and we walked faster because H wasn't with us. No, that's mean. School just zipped by again today: it was great. I've started to teach myself to type using R's book. It's going to be hard but very useful. Young People's is probably finished cause L and J quit. I'm really sad but I want to go out with a real bang. Like going to JJ's cottage and getting plastered. Oh well! H and I are really serious about going on a diet because we severely pigged out. I can tell my workouts are working. I can add 5-10 more pounds to my stomach and the pushups are a lot easier! Praise God!
Where to start?
Those entries are an accurate representation of how I remember my mid-teen years: friends, faith, romance novels, my reality always falling short of my ideals. Actually, this sounds like me now. Let's do a comparison.
Me at 16: I'm having problems with my devotions: I'm not doing them. I have to shape up. But I think I will start slowly by praying every night, then I will go to reading the Bible every night as well.

Me, just a few days ago: I'm trudging along a path that I have created in my brain, and which my brain desperately wants to remain on, whether it's leading me where I want to go or not. I am Resisting mightily the development of new habits that would be better than some comfortable old ones. And when I manage to head out on a new path, I drift back to the old one way too soon….That's it for now. I'm not going to try to revolutionize my entire schedule in one fell swoop. If making that change doesn't bleed over into my bad evening habits, I'll revisit this process in the new year.
Yup.
The second entry cracks me up. Was my response to a litany of random boys honking at me, pigging out severely, and skipping school really, "Praise God!" With an exclamation point? It does sound like a fun day, but I can only shake my head at myself.
An Unusual Child
My parents hadn't attended our church for a few years already; I'd either watch Robert Schuller on the Crystal Cathedral on TV with them, or walk to church by myself and be the final Hart family representative in "our" pew. I'd listen to the sermon. I was even known to go to evening church, mostly because our minister at the time didn't feel the same pressure to be the "domine" in the black robes behind the podium then, and gave wonderful messages. I attended Young Peoples. I was an officer in the Inner School Christian Fellowship group at my public high school. I was a representative of our church at regional young people's planning boards. I went on service weekends and to conferences. I believe at this time I also went to a Friday night Bible study (8pm – 12am) with a bunch of Pentecostals and Baptists in a suburb of Toronto. I was a thoroughly churchy girl, with no specific encouragement to be such by my parents. I just loved it. This makes me unusual, I know. And I still love church. Even when it frustrates me, pains me, hurts me or my friends, it gives me joy and comfort, it challenges me.
Still me
While the grownup me uses very few exclamation points in both public and private writing, most everything else in these posts is still part of who I am. I still thank God for my family every day (although I'm less judgmental about people who didn't have such great families of origin). I'm still involved in churchy matters. I still read romance novels (although not Harlequins; they're too short). I still love food, movies, God and my friends. I'm still not as regular as I'd like to be with Bible reading. I still like to periodically skip things for no good reason.
So I will give that dear gushy girl of my past a hug. She wouldn't always be so up.