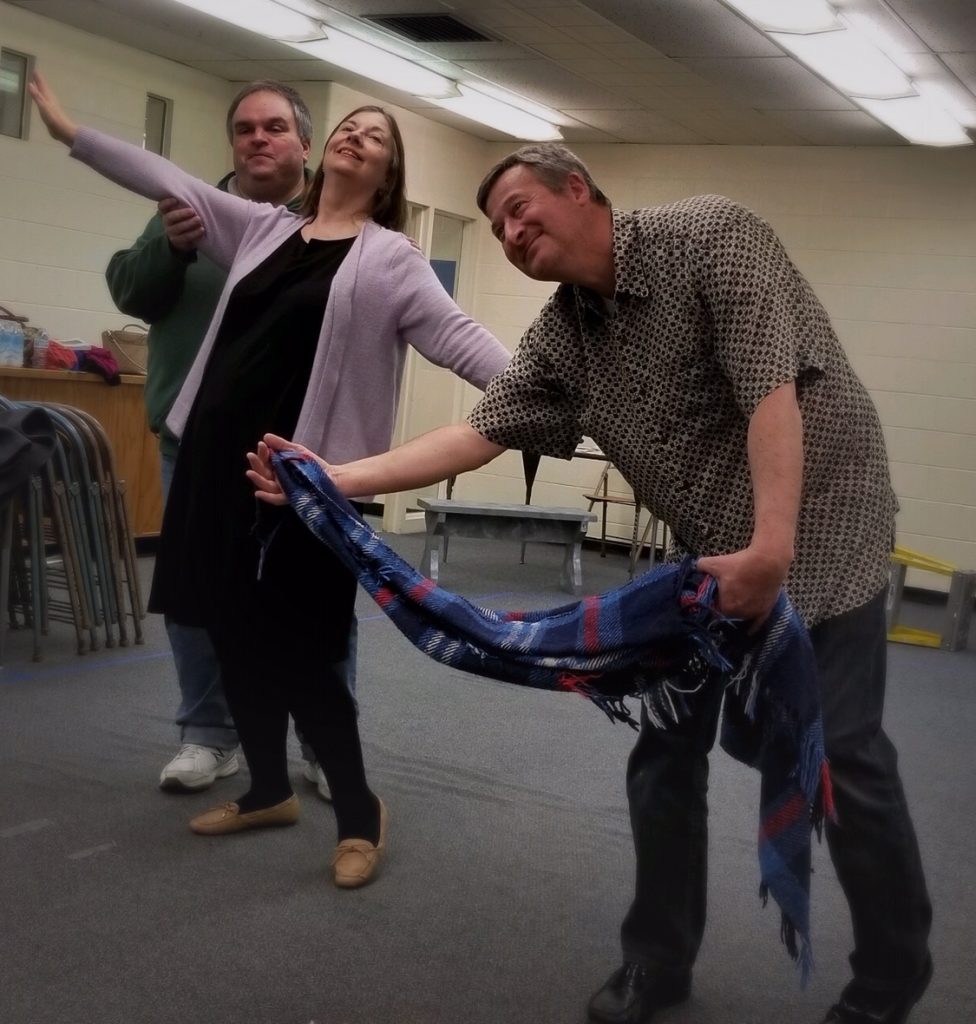 The people putting on The University Wits' (TUW) presentation of All I Really Need To Know I Learned In Kindergarten, by Robert Fulghum, might be many years past kindergarten, but there are enough firsts among them to keep things feeling almost as electric as that first year of school.
This production is Richard Mulligan's directorial debut in Grand Rapids community theatre, Colleen Thompson's first appearance on a stage in downtown Grand Rapids, Jonathan Levine's first role in scripted theatre in Grand Rapids, David Wood's first time in a University Wits production, Dave Benson's first time singing and dancing on stage, and CJ Namenye Wood's first time dancing on stage with her husband (David Wood).
Mulligan was sitting in the audience of TUW's presentation of Jeffrey last year when he saw that they were looking for directors and that Kindergarten was on their schedule–a play he'd twice directed as head of the drama ministry at Genesis United Methodist Church. He'd been drawn to the play in the mid-2000s after seeing the Kindergarten Creed (a poem that appears in the play) in one of his son's classrooms:
"It's about how people should treat each other, how to treat the world, how to be a good person. The basis of the poem makes sense."
The cast is finding a lot to relate to in the play on that basic, how to be a good person, level. When asked about their favorite pieces, Levine and David Wood both mentioned "Pigeons" (although Wood isn't in that piece), which is about a grandfather watching his granddaughter chasing pigeons at the zoo. He wonders what she'd do if she caught them, and concludes that possessing the pigeons isn't the point of it for her, just as possessing her isn't the point of their relationship. Levine said, "Having two daughters that are very much their own persons and don't belong to anyone, who are going to do what they want to do, I appreciate 'Pigeons.'" David Wood finds spiritual meaning in the piece:
To love something and to possess it is not the same thing. This is true in human relationships and between us and God–we're not just puppets. When you love something, it isn't that you set it free, but you allow it to love you back on its own terms.
Like David Wood, Thompson's favorite piece is also one she's not in, "The Bench." In particular, there's one line that really speaks to her, about things going exactly as they're supposed to go. Thompson said that, in her life, during times of change she often gets that feeling of rightness with what she called "waves of enlightenment" that encourage the change she's making. She recently made the big life change of moving to a small apartment downtown, and is enjoying ticking off "appear at Dog Story Theater" from her bucket list.
For Namenye Wood it isn't that she has a favorite piece, because "there are none I don't relate to. There's something in every vignette," but when pressed, she, too named one she wasn't in, "Problems and Inconveniences":
There are problems, and there are inconveniences, and learning to know the difference between them is meaningful and necessary. Learn about the things that really matter and then recognize what is fleeting and let that go, because our energy is fleeting and we should put it into things that are meaningful and purposeful.
Benson likes his favorite piece, "Charles Boyer," not because he had an immediate connection to it, but because he's working with it as an actor in a different way: "Richard is having me talk more personally and picture my wife and make it personal to me and be more emotional than I've done in a play before."
This aspect of bringing in the personal highlights something interesting about Kindergarten for the actors: it's not a play with a beginning, middle, and end, and they are not each playing one character who only speaks to other characters while ignoring the audience. Kindergarten consists of about two dozen individual stories that the actors tell to the audience. Namenye Wood explains it this way:
We're narrating, talking to the audience, sharing with them. We're not characters, we're who we are, telling stories–someone else's stories, but we're ourselves.
There are times when there are multiple actors on stage, acting out and telling a story, but their focus is on the audience. Thompson said that it reminds her of the Moth Radio Hour and other NPR storytelling shows.
It's been over 10 years since Mulligan last directed this play, and he's found different takeaways than he did the last time. The piece, "Christmas/Valentine's Day," which centers around how a wife deals with her aging husband's repeated forgetting, is more poignant because, in those intervening years, his mother developed dementia and then Alzheimer's. And these days he sees one of the pieces as nothing less than a rallying cry:
What resonates with me now is the story and song, "Reflect the Light." One of our cast members is knocking the song out of the park, but more than that, it's an important message for our times. If you think of light as being knowledge and truth and compassion and all the good–if you have a mirror, you can reflect that light into dark crevices of the world, dark places in people's minds and hearts. It comes from the true story of a philosopher and theologian after World War II who was asked about the meaning of life. People laughed at the question, but he answered sincerely that the meaning of his life was to be a mirror and reflect light into dark places.
This makes it sound like the show is nonstop heartwarming. It definitely has pull-out-the-tissues moments, but there are plenty of laugh-out-loud moments, too; Levine describes it as "touching-funny." There's a man who ties balloons to a lawn chair and manages to take off, another who mishears "hallowed be your name" as "Howard be your name" in the Lord's Prayer, and there's an entire song made up of different iterations of the phrase, "uh oh."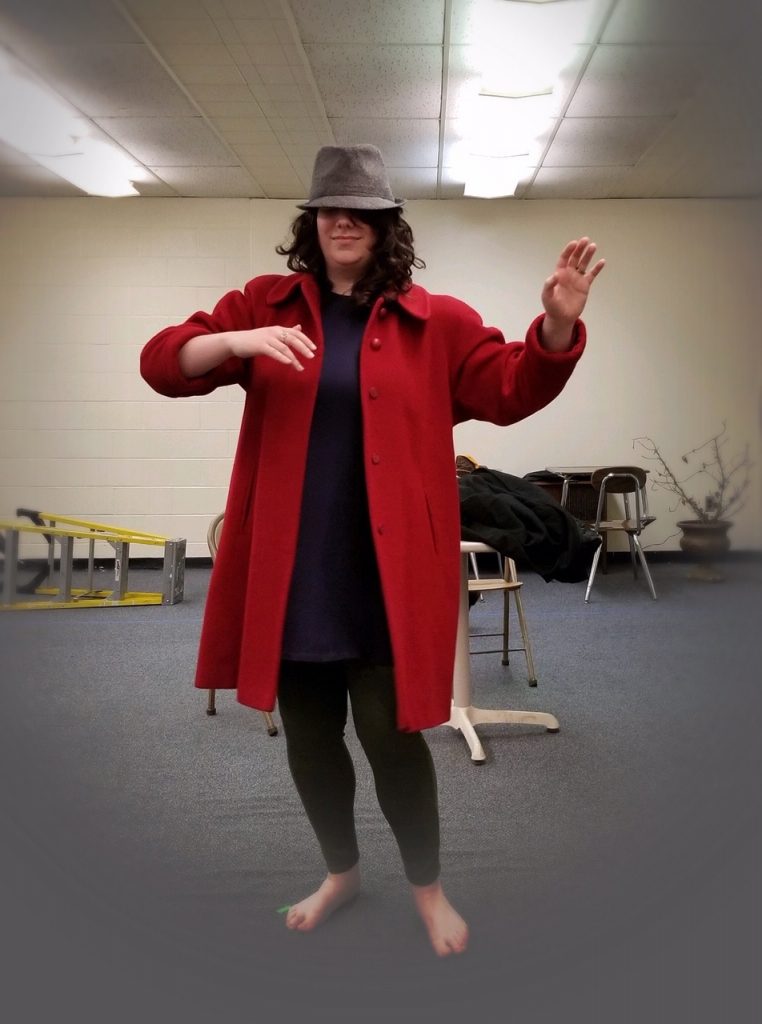 The University Wits' presentation of Robert Fulghum's All I Really Need To Know I Learned In Kindergarten is playing at Dog Story Theater at 7:30pm on April 19, 20, 25, 26, and 27, with matinee performances on April 27 and 28. Go to dogstorytheater.com for ticket information.