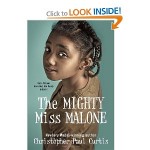 Books like this are why I love to read and why I want to write. Miss Deza Malone is a diamond of a character. It isn't just that she is bright and has a sparkling personality (both of which are true), but it's also that she is so clear. Christopher Paul Curtis has given us a child who is clear about who she is. She knows herself, her family, her community.
What a pleasure to read about a child who has been loved and known and encouraged by an intact family for her entire 12 years. I adore the Malone family — not perfect, but real and loving and firm and funny. Deza's compass for truth and nonsense come straight from what her parents taught her and what she observes of how the world works. The family has a hand signal to warn each other that they know someone is trying to string them along: they put their hands on the imaginary steering wheel of the Manipula-Mobile. The father often speaks in alliteration, and has long alliterative names for everyone. They so clearly love each other. So often, main characters in children's lit are orphans, or one parent has died, or they have at least one terrible parent, so it's a testament to Mr. Curtis's skill that he crafts such a dramatic story for this great family.
Deza is intelligent and curious and asks for an explanation when she runs across something she doesn't understand. That last thing is a great personality trait in a character, because the author gets to explain things that would be beyond a child's normal understanding or experience. It is a regular refrain in the book that she will become a writer, that she'll go to college. Deza lodged herself in my heart and I'm dying to know whether any of that happened. PLEASE, Mr. Curtis, write a sequel some day.
She's also self-aware. I loved how she'd talk about her reactions when things didn't go her way or something really bad was happening.
I'm different from most people and one of the main reasons is, I think I might have two brains. Whenever I get nervous or mad or scared or very upset, I have thoughts that are so different from my normal thoughts that there isn't any way they could be coming from just one brain (p31).
She usually grits her rotting back teeth until the pain stops the bad brain, because she is a child who values truth and honesty. But the couple of times she takes the bad brain's counsel are fantastic.
 The Mighty Miss Malone is, akin to the Newberry-winning, Bud, Not Buddy, a road book for part of the time. The book takes place in mid-1930s Gary, Indiana and Flint, Michigan, cities that were devastated by the Great Depression, even more so for Deza because she and her family are African-American. She and her mother and brother ride the rails and live in a shantytown — where she meets Bud. Deza appeared in Bud, No Buddy, so here we get the same scene from her point of view. (I didn't remember this. It had been years since I'd read Bud, so I had to google it.) It's a sweet little moment.
I won't tell you all the stuff that happens, but, in many ways, it's typical of other stories about the Depression: the father leaves to find work, promising to send money, and then doesn't. Things get really tough. Here's how Deza describes it.
If somebody came along and saw us walking they'd mistake us for a very quiet parade instead of what we really were, a river of people who didn't know what city we'd be in tomorrow, or what we'd be eating, or even where somebody would let us stop and rest (p227).

Hoping is such hard work. It tires you out and you never seem to get any kind of reward. Hoping feels like you're a balloon that has a pinhole that slowly leaks air (p232).
And I won't tell you how it ends, either, but it makes you root for them to get to where their family motto says they're heading: "We are a family on a journey to a place called Wonderful."
Well, this novel is wonderful, and the cover is killer good. Along with being a good, dramatic story, it's accurate history. I highly recommend it.