My husband and I went to our first fashion show this weekend. We dressed in black; I wore my steampunk-inspired earrings; we practiced our high fashion attitudes.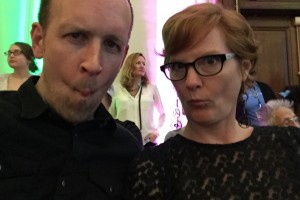 Happily, this attitude was more appropriate to the event, the first ever DisArt Festival Fashion Show.
From their website:
DisArt is a multi-venue Disability Arts Festival scheduled for April 10-25, 2015 in Grand Rapids, Michigan. Through several world-renowned exhibits of Disability Arts from all over the world, DisArt Festival 2015 will challenge its audiences to reconsider the importance of community, identity, and difference.
Which sounds all fine and good, but let me tell you what it meant for the Fashion Show: every model was a person with a disability. Each was given the full hair and makeup treatment. Each got to strut their stuff on a professionally lit runway, accompanied by the musical stylings of a professional DJ and the raucous cheers of the audience — except when the sleeping baby came out and we all tried to clap quietly. Many of the designers were people with disabilities.
It was one of the most joyful events I've ever been to.
Unlike most fashion shows that make the press, this was a family event, full of children and grandparents. Maybe a quarter of the crowd dressed for a fashion show, but the rest could have been going to any event their offspring were involved in. There were lots of kid volunteers, with whole families in blue DisArt T-shirts. The organizers kept having to bring in more chairs, and still, people wound up standing. Room 217 in the Woodbridge N. Ferris Building of Kendall College of Art and Design practically vibrated with excitement.
Robert Andy Coombs, photographer (see his work at the DisArt Hub) and DisArt Fashion Coordinator, welcomed us to the event, and then the fun began.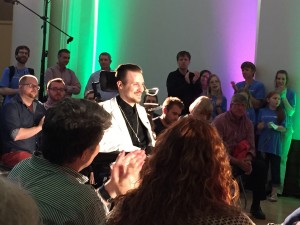 The first three items of clothing were made by open style lab, a nonprofit enterprise out of MIT that designs and manufactures accessible garments. First was a black quilted jacket with grey detail just under the shoulder that was so cool-looking I forgot to notice what made it particularly great for those with disabilities. I talked to the model afterwards, and he said he'd buy that jacket in a heartbeat; some of the garments will be for sale in May, so hopefully he'll get the chance.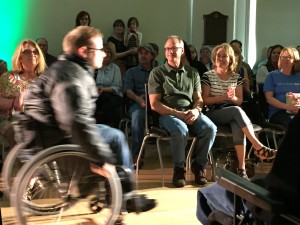 Next was a rain jacket (RAYN) designed for those who use wheelchairs. It has a section that, when unzipped, folds out to cover the wearer's lap, and has a hood that lays softly against the back, yet when it's flipped up, forms a brim that funnels rain away from the wearer's face. I talked with this model afterwards, as well, and he enjoyed the whole process — even his own America's-Next-Top-Model-makeover-day experience, when one of the stylists didn't like his hair and wanted to cut it. The model agreed, and loves his new haircut.
The final garment from open style lab was a gorgeous asymmetrical white jacket for women that featured magnetic closings that made it easier to put on and take off. Underneath it, model Jessica Poll wore a white pleated, goddess-style top (that I may have coveted just a tiny bit). Ms. Poll beamed her entire time on the runway.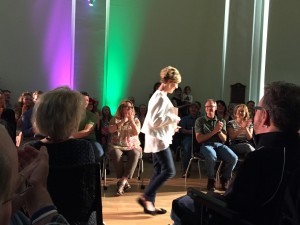 The next group of garments were T-shirts and boots designed by military veterans who had been wounded during their service, many during combat in Iraq. A local organization, Fashion Has Heart, pairs designers with veterans to create a T-shirt that represents their journey, as well as boots that are then manufactured by Wolverine. The first model pictured here, the guy with the awesome multicolored mohawk who is totally working the crowd, is wearing a shirt designed by a man with burns over 90% of his body after his vehicle was hit by an IED. The design shows a man in the middle of flames, rising like a phoenix.
The young woman below is modeling a shirt designed by an Iraq war veteran who lost her sight. The tagline on the shirt: "When life gives you lemons, you make the best damn lemonade." The design is also textural, so a person with visual impairments can enjoy the different design elements.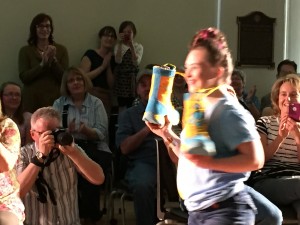 There were several more T-shirts — one with a gold medal to symbolize the veteran's hope of becoming a Paralympian, another with many doors, another with an image of the designer standing on his bionic legs. All the T-shirts from Fashion Has Heart are for sale for $25 each.
The final group of garments were designed by students in a class at the Kendall College of Art and Design and in partnership with Spectrum Health Innovations. Each student was paired with a child with a disability and tasked with creating clothing that would be supportive, that would be able to accommodate diapers and leg braces, that would have seams that lie flat. AND that a kid would want to wear — these functional garments had to be fun and attractive. They totally were.
There was a Mickey Mouse-themed outfit with a cape for a toddler who wasn't quite as excited about the bright lights as some of the other models. An outfit that looked like it could be Green Bay Packers practice gear. One of the models was clearly having so much fun, zooming with his walker, but taking his moment in the spotlight at the beginning and end of the runway, that I forgot to notice what he was wearing, except that it had a cape, too. The garments took advantage of cutting-edge fabrics, with 4-way stretch, and with compression capabilities to support the kids' muscle development and placement. The pants all had really cool-looking seaming that had functional purposes, but they managed to make it look and feel great for the kids wearing them. It was such a great experience that the instructor of the class hopes they'll be able to run it again.
When Robert Andy Coombs came out again, he got a standing ovation. He called out festival director, Chris Smit, who also got the standing ovation treatment, and then made many people cry with these words:
We wanted to flip things on their heads, and I think we just did it. There are opportunities for this to happen all over. But it didn't happen in New York. It didn't happen in Chicago. It didn't happen in L.A. It happened right here in Grand Rapids!
Now that it's happened here, I hope it happens all over.
If necessity is the mother of invention, then the DisArt Fashion Show demonstrated that designers and fabric technologists are more than up to the task of designing beautiful garments that fill some real needs in the world — whether the need is for more functional garments for those with disabilities, or for self-expression, or for beauty. Or all three.
* The festival continues all week, with exhibitions, films, round tables, family days, dance performances. All for free. Check out the schedule. *
** I apologize for not being a proper reporter and not getting the names of all the models. If anyone who reads this knows their names, send me a message and I'll add them. All photographs were taken by Michael Van Houten on his iPhone from our seats. If you want to see professional photos and news reports, you can check out MLive and WZZM. **