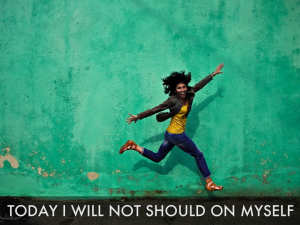 It's 45 minutes before my alarm. I'm awake. There's no hope of my falling back asleep. Some of you lucky good-sleep people would be able to, but not me. Instead, I get this:
I should do my devotions.
I should get out of bed and do a Twenty Minute Win of writing before I need to get everyone else up.
I should do some yoga. A few sun salutations would work this crick out of my neck and ease the stiffness in my lower back. And it would counteract the complete lack of exercise from the weekend.
I should get to the gym or hop on my bike more in the next two weeks. I've got that family reunion coming up and I'm going to have to be in a bathing suit in front of young cousins who look adorable in their bikinis.
I should make a grocery list so I can go straight to the store after taking my son to the orthodontist and then school.
I should get up so I can get lunches ready before I have to get the kids up (yes, my kids still have school).
I should get up and do my Morning Pages. I'm supposed to do them first thing in the morning, before I've had time to filter myself. That time is now.
I should bag all this stuff so I can make the kids eggs for breakfast and start their day out right.
What did I actually do?
I lay in bed thinking about all these shoulds until there was only time to make the kids' lunches and make myself a cup of tea before going upstairs to announce, "Cold reality is back — wake up!" The kids had Frosted Flakes for breakfast. I never did my Morning Pages, nor did I do a 20 Minute Win. I did take a kid to the orthodontist, finish the laundry, do the grocery shopping, drove 40 minutes either way to attend my Artist's Way group (having not done the Morning Pages nor all my reading), browsed Facebook and Twitter, attended the school sports banquet, called my parents, played a little online Boggle, finally did my devotions (at 10:45 p.m.), and started this blog post.
Other shoulds that floated through my head over the course of the day.
I really should eat the crust of my second 1/2 piece of toast. Then again, there are oh so many people who say I shouldn't eat toast because the carbs are making me unhealthy, but I think I should be okay because it's whole grain toast and I really like vegetables and fruits and quinoa and I eat them, too. (Not to mention that the last time I went totally gluten-free I lost 12 pounds in two weeks, but I was constipated for 3 months, which made it officially Not Worth It.)
I should figure out when I can get to the gym this week, because I keep missing my regular classes for other business. I miss cutting loose in Zumba; going on the treadmill is really not the same.
I should get a Zumba DVD so I can do it at home when I want.
I should sign the kids up for their final two camps that I have already promised them they are attending.
I should read and comment on my friends' blogs. I did read, but I didn't comment — commenting more was one of the goals I set for myself after the writer's retreat two weekends ago. So I should get back on the wagon and comment.
I should stop playing online Boggle.
I should tackle my home in-box.
I should work on my synopsis and revamped query letter for It Is You. And go back to my agent research. And do more agent research.
I should stop using those packaged face wash cloths and just wash my face with cleanser and water again.
I should watch my son brush his teeth so he does a better job and the orthodontist doesn't get on our case anymore.
I should vacuum. This floor is getting crunchy.
I should give the printed manuscript to my friend who has a friend who is a reader for a publisher.
A Should Vacation
And then a friend sent me the image at the top of the post.
I thought of all my shoulds. Some of them are actionable items. Many of them, actually. Others come from outside, societal pressures and not from a personal commitment. Still others are based on daydreams about the kind of life I could live. To take a vacation from telling myself what I should be doing sounded lovely and freeing.
But then … what would a should vacation actually be like? I love that image of the woman caught mid-leap. It's inspiring and makes me smile. I love to leap. But would I want to live a life free of shoulds? Even for a day?
The more I think about it, the more I connect it to John Lennon's "Imagine" and the idea being that we wouldn't have strife with each other, if only we didn't have countries, religion, and possessions to mess us up.
It turns out that I'm too much of a Calvinist to buy that. I think we'd find different reasons to hate each other and kill each other.
Besides, each of those concepts is a mixed bag of benefit and detriment. Yes, countries invade other countries, and teach their citizens that they're the best kind of people on earth (and all other kinds of people are clearly not the best kind), and discriminate against those in their own country who are not "the right kind." But countries also learn how to negotiate, how to take others' needs into account. They can hurt more, but they can also help more. They provide a framework to meet people's needs and respond to emergencies (as large as a tornado and as small as a house fire). They can inspire people to greater acts of generosity and deeper feelings of unity.
Religion has and does inspire hatred, an us vs. them mindset; it provides fuel for bullies and inspires war. But it also teaches us about love and sacrifice and fuels compassion and challenges us to act outside our comfort zones. It insists on justice for the oppressed, hospitality towards everyone, generosity to those on the margins. It gives us a reason to be one.
Possessions is a harder sell. It's easy to see the problems of greed, of idolizing stuff. The only deeper benefits of stuff I can think of have to do with attitude: when we have an attitude of abundance (even if we don't have very much actual stuff or not as nice stuff as those people over there), we will be generous, we will share.
My shoulds are a mixed bag, too. Some I really do need to make happen, either because they are important to the smooth running of my family, or because they tie into my deep dreams and visions for what I want to do with my life. They spur my discipline and move me beyond doing merely the good-for-now, the whatever's-in-front-of-me. I don't want to drop my awareness of these things, not even for a day.
So instead of not should-ing on myself today*, I will practice self-compassion. When a "should" comes, I will weigh it. Some things will be allowed to stay. But for other shoulds, I'll talk to myself like I would to a friend who's being too tough on herself, "Oh honey, give yourself a break on that one."
It should be noted that I still have not vacuumed.
What shoulds will you drop today? Which will you keep?
* Is anyone else hearing echos of those KMart ads, "ship my pants," and "big gas sale"?