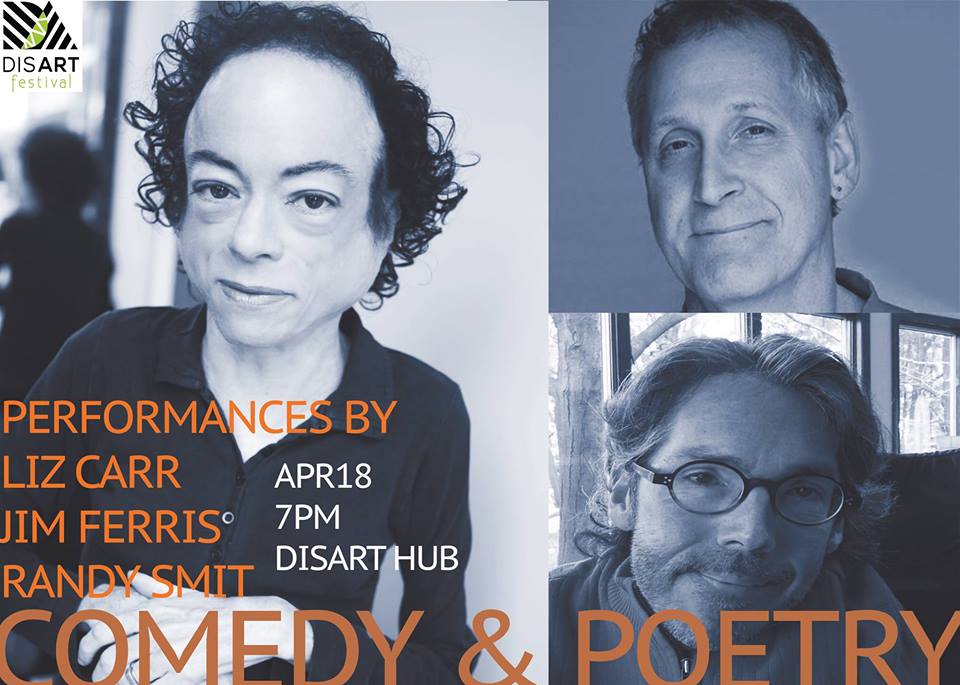 That's a quote by Liz Carr, the British comedian and actress who was the final performer in DisArt's Poetry and Comedy night, and who was so funny about true things that pushed the boundaries of what isn't funny, that I was exhausted by the end of her performance. It was a cathartic exhaustion.
But I'm getting ahead of myself.
The evening started with West Michigan poet, and founder and leader of the organization, Compassionate Connection, Randy Smit. I've taken creativity classes with Randy and he's a great facilitator and encourager and taker of the discussion to a deeper level, except when he occasionally takes it to a sillier level — all of which are wonderful. He's also a poet who juxtaposes the mundane and the sublime and throws in some killer analogies which manage to make me laugh, make me think, and break my heart, often at the same time.
The poem titled "February 29" was a perfect example of that dynamic. It started out so ordinary, with, "Where would I be without toast?" But then, while eating a square of buttery toast, he thinks about a friend who'd driven his wheelchair off a pier, and how and why "they" said it happened (an accident), and wound up at his own conclusion, "he must just have gotten tired." Devastating.
He started off with a rant poem inspired by a man who had driven illegally on a bike path, when Randy was wheeling down the path one sunny afternoon, to ask him whether he needed any help. Here are some of my favorite responses (direct quotes as I heard them, but probably not as set on the page):
Do I need help? Yeah.
I've been trying like crazy to pay down my credit card.
I've been dying to learn some Hebrew.
I could use some insight into my 401K.
I've got a new pair of jeans; I can't get them soft.
He, of course, doesn't need help to continue riding down the path. From a poem called "Inspiration," I loved this line:
The deep abyss you call the present.
In a poem about his brother Chris's dog, he made me laugh with, "The white fur between your toes smells like Fritos," and then got me teary with the adjective, "omni-benevolent." I did find a link for one of my favorites of the night, "Toilet Talk," so I'm able to include this great analogy in its fullness:
I think I'm all set is what I'll
say to the student nurse in just a few minutes, I

hope. But first − Even my sense
of God being in control seems to
be changing, I say, it's much more like
a director of a musical, I mean certainly in charge
of what might… but then, I guess
more as a maestro, a muse, thrilled with
harmony, the soaring of hearts out
in the seats, the flautist, third chair
bassoonist, stagehands and soloists each rapt in
their singular, lustrous offerings, the conductor
at the center of the grand production − yeah, maybe
that's who, that's how.
I'm just crazy about the maestro leading the musicians who are "rapt in their singular, lustrous offerings." Lustrous. Great word. His final poem started out talking to and about his younger brother and it was so big brotherly in funny and dear ways. Then he expanded it to his family, "I'd like to thank my family for being who they are and never quite telling me to my face." And then he expanded it again to his "brothers panhandling in Cairo," and wound up wondering what he could've done if he'd lived from end to beginning.
* * * * *
The next performer of the evening was poet Jim Ferris, Chair of the Disabilities Studies Program at University of Toledo (in OH). We got a hint of how he'd be right away from his shirt, which had stick-figure illustrations of people, one of whom used a wheelchair, engaged in a variety of sexual positions. I sure hope there was nobody in the audience who was uncomfortable with people with disabilities talking about sex; if so, they were in for a rough night. Ferris also talks faster than Randy, so I was able to jot down fewer of his exact words.
His first poem was the very funny, "High Concept," about calling the Screen Actor's Guild on a lark to see whether there's already a Jim Ferris registered, and being put through to Jim Ferris's agent and getting acting work although he tried to argue with them:
No movie star wears a brace or walks like I do unless they're trying to win an Oscar.
The poem, "Fear at Thirteen," was about being prepped for surgery. The images were sharp and often disturbing: one leg shaved to the hip, doctors and nurses hovering over him "showing only bandit eyes,"
and what you fear most is that you'll pop a boner and die embarrassed….
He wrote a poem to a critic who kept being asked to evaluate Ferris's work despite the fact that he always trashed it:
The crackle of pity tenses the electric air. He wants to see me limp …. He's publicly disappointed when I don't dance his way.
Besides other poems about being and knowing and sex, he read two poems that could also be characterized as rants. One for all the people who want to tell him what to wear and how to be so he'll appear "normal," that powerfully included the repeated line, "I won't cover my stumps." And another, "Tell Aristotle," inspired by philosophers and thinkers over the centuries who think disabled children are not fully human: "tell them I lived…
Disorderly.
Imperfect.
Tell them all, we thrive.
* * * * *
And then Liz Carr came to the stage. She's a British actress and comedian (she plays a forensics expert on a TV show there) who was able to make us howl with laughter at her stories of indignities she's endured as other people try to deal with her disability, as well as what she gets away with because people don't know how to deal with her disability (including her freedom to reach the Mile High Club because the flight attendants don't dare question how long she's been in the bathroom with her partner).
She started out with describing her experience at a comedy competition. The building was accessible, but the stage wasn't, so the organizers came up with the solution of lifting her up to the stage at the beginning of the competition. That worked, but it meant she had to sit there while all the other comedians performed, but
it's okay. They put a drop sheet over me. It reminded me of Christmas at home.
Somehow, she got us to laugh at the medical interview she was given before they'd let her on the plane to come here: "Do you think you'll die during the flight?" She lamented how rich people got Disney to take away "the gold card of crippledom": "We can't go to first in the queue." Said rich people were hiring people in wheelchairs to wait in line on their behalf so they could skip ahead of everyone else.
There's another story that I can't even begin to describe, just to say that it started with Amsterdam, went to the Anne Frank house, and then wound up with the audience screaming at the punchline, "Schindler's lift."
So many of her stories were like this. Her observations about her life and the lives of other folks who are disabled pushed the boundaries of what should be funny, but she made us laugh at them, laugh at our own earnest ridiculousness, laugh at the humanness of her condition and of ours. So she, indeed, had to say, "It's true. It's true. It's still funny."
It sure was on Friday night. I'm so glad I went.